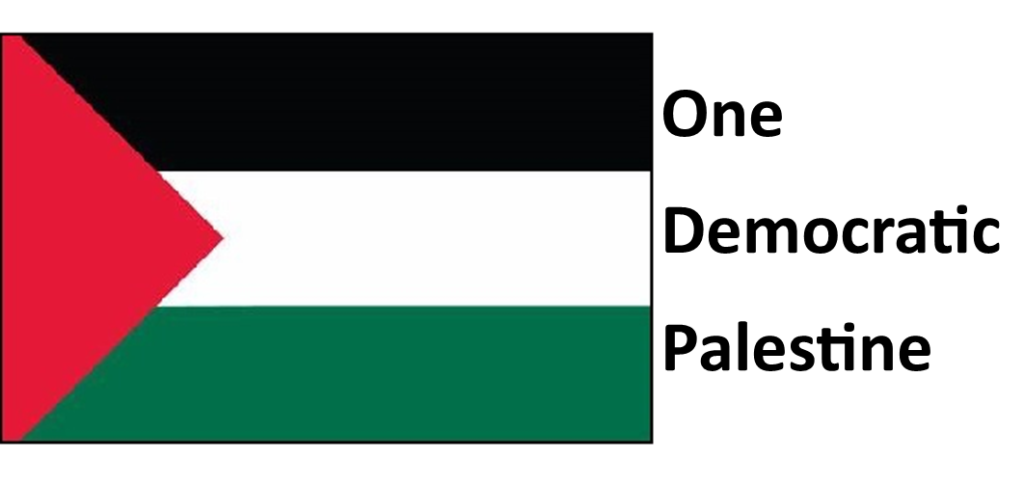 Contents- please click on link to jump to paragraph header:
About Us
One Democratic Palestine (ODP) focus on supporting a single-state solution for Palestine that reflects the reality that the two-state option is dead.
There is no other UK organisation that we know of that is committed to seeing beyond Israel and a return to what Palestine was before the British conquered it in 1917- but surveys show that this is what the majority of Palestinians want. Palestinian groups in the UK such as the PSC are aligned with the Palestine Authority (PA), who have chosen to recognise Israel and therefore de facto they support a two-state solution. The Torah is clear that Jews should not have a state.
Furthermore, all major UK political parties favour the two-state option; even Israel has said, until recently, that it works towards this. But since the Oslo Accords of the mid-90s, when the PLO moved to recognise Israel in return for the promise of a state of their own, Israel has worked to prevent such a thing.
One Democratic Palestine favours the peaceful dissolution of the settler colony that is Israel, leading to new single-state of Palestine where all citizens are equal- Jews, Arabs and Christians- where all have equal voting rights- and where UN resolution 194 on the right to return is honoured.
We are clear that we are not calling for a Fatwa on Jews, even if they are Zionist Jews. We need to get our MPs in Westminster to start reflecting the view that there is little support for Israel in the UK; our Government must recognise a single-state solution as the only realistic one. Many MPs privately realise that the two-state solution is dead; Israel has killed it.
For decades, the UK and the US have pushed for- and failed to broker- a two-state solution where Israel and Palestine exist as separate countries. Now the only solution is Israel's dissolution, as that illegal state will never willingly give up an inch of the land it has stolen. Israel has made any other kind of peace impossible. Palestinians numerically equal Zionists in the land that Israel governs yet most of them have no vote. Israel falsely calls itself a democracy whilst excluding so many non-Jews from power.
Survey results in May of this year observed that 33% Palestinians in Gaza and the West Bank wanted a single state. However, when the views of the wider diaspora of Palestinians is included, there is a clear majority in favour of a single state: a democratic secular state of Palestine, from the river to the sea.
We at One Democratic Palestine will support Palestinians in this campaign. The UK, as the mother of Israel, bears the greatest responsibility for righting the wrongs of the past 100 years in Palestine.
We must do that by now calling for the dissolution of Israel, which is born from European antisemitism and our imperial desire for a colonial outpost in the heart of Arabia. Israel pays the greatest heed to what the UK thinks; we must now exploit that respect by telling our racist colony that its time is over.
We are part of the ODS movements and align ourselves to the One Democratic State Campaign, whose manifesto contends:
"that the only way to achieve justice and permanent peace is dismantling the colonial apartheid regime in historic Palestine and the establishment of a new political system based on full civil equality, and on full implementation of the Palestinian refugees' Right of Return, and the building of the required mechanisms to correct the historical grievances of the Palestinian people as a result of the Zionist colonialist project."
The "Muslim & Jew on Tour: Beyond Israel", scheduled to visit all UK cities from late April, will help promote our new focus and encourage more UK citizens to recognise the way forward for Palestine.
We will support the democratic right of Palestinians to choose who leads them and if this be Hamas, argue that Hamas be removed from the proscribed lists, in order that Palestinian voices be not muted.
AND MORE…
We'll also continue with our campaign against bogus antisemitism. Making free speech on Israel and Palestine possible again in the UK will take more than just the petition against the IHRA Definition of anti-Semitism that 2,500 Labour activists are signing at www.tinyurl.com/israelihra. We encourage bodies to divest themselves from the IHRA Definition (see our IHRA page on how we can do this); we feature a "Rogues Gallery" highlighting those slandered, clarifying what they have actually done to merit Zionist efforts to unjustly "cancel" them. We collate information on where our MPs stand (see our Politicians page ).
Thus far we are 60 people, from the UK and around the world. We are atheists, Christians, Jews and Muslims- with Palestinian views to the fore. Our aim is a single state solution [to see our views on Israel, visit our Israel & Palestine page.]
Further reading:
https://www.aljazeera.com/program/the-stream/2022/5/5/israel-palestine-can-a-one-state-solution-work
https://www.theguardian.com/world/2019/mar/13/one-state-solution-gains-ground-as-palestinians-battle-for-equal-rights
https://www.redressonline.com/2021/05/palestine-the-one-state-reality gilad atzmon
https://jacobin.com/2021/04/one-state-solution-israeli-palestinian-conflict-resolution-democracy-rights
https://www.vox.com/2018/11/20/18080094/what-are-the-two-state-solution-and-the-one-state-solution
The Political Program of the Campaign for One Democratic State in Historic Palestine – ICAHD
www.shoah.org.uk/palestine-one-state
https://foreignpolicy.com/2021/05/12/israel-palestine-gaza-green-line-vision-one-state
https://www.palestinechronicle.com/palestine-one-state-for-all-or-a-final-zionist-ethnic-cleansing by Alan Hart
https://www.middleeasteye.net/opinion/jewish-colonists-and-three-one-state-solutions
https://www.trtworld.com/opinion/why-the-palestinians-should-focus-on-a-one-state-solution-15528
www.middleeastmonitor.com/20211126-palestinians-favour-a-one-state-over-a-two-state-solution-poll-finds
https://www.aljazeera.com/program/the-stream/2022/5/5/israel-palestine-can-a-one-state-solution-work
Other One-State Solution Organisations
One Democratic State Campaign www.onestatecampaign.org/en
One Democratic State Initiative www.odsi.co/en
ODS: One Democratic State In Palestine www.odsinpal.org, where the vision of the ODS movement as adopted in July 2012 can be found at The Munich Declaration – odspal (odsinpal.org)
One Democratic State www.onedemocraticstate.com which includes the article Judaism Is not Zionism | One Democratic State
Free Democratic Palestine Movement – Free Democratic Palestine Movement– based in USA
Meetings
We hold meetings every six weeks on Zoom, usually on a Saturday or Sunday morning. All members are welcome to these, where we discuss current initiatives and plan future campaigns.
To join
Please read the policies below and member rules, then click here
To subscribe to the occasional newsletter
If you don't want to join, but stay in touch: click here
To donate
Help cover our costs for printing flyers and travelling to events to spread the word. Donate here
Questions and Feedback
Please send your questions or comments to info@onepalestine.land
Our Policies
Policy 1. We stand by the Merriam Webster definition of anti-Semitism, defined as "hostility toward or discrimination against Jews as a religious, ethnic, or racial group". We abhor this kind of racism as we do all racisms, including that against Arabs by Zionists and other racists. We focus on Zionist racism because other forms of racism are not generally respectable. Political Zionism currently is.
Policy 2. We note the IHRA definition declares that saying 'Israel is a racist endeavour' is anti-Semitic, but we say it is the truth. And we know there will never be peace there, until Palestinians are given equal rights to Jews and the full right to return is implemented (as the UN called for in resolution 194). We see that the Jewish Labour Movement (JLM) is a Zionist body that supports Israel and rejects these aims. They must be disaffiliated from the Labour Party. We will oppose Zionist political activities in the Labour Party, trade unions and civic bodies. We say that membership of the JLM and the Friends of Israel should be proscribed for Labour members, for these bodies promote racism against Palestinians and Arabs in Israel and in the occupied territories.
Policy 3. We oppose the IHRA definition of anti-Semitism as politicised and fraudulent, as do the Palestinian trade unions and civic groups, whom we are committed to supporting. We will campaign to get it confined to the dustbin of history, thereby freeing millions of UK citizens to criticise Israel as they see fit.
Policy 4. We believe in freedom of speech and will not bar anyone from joining this group unless they hold antisemitic views, according to the Merriam-Webster definition. We believe all those accused of bogus antisemitism deserve full solidarity and support. We challenge claims that their conduct brings their organisation into disrepute; we consider witch-hunts of such individuals to be far more corrosive, as it usually reflects institutional support for apartheid Israel.
Policy 5. We note Al Jazeera's "The Lobby" which shows how Israel funds the JLM and the FoI to take down UK politicians of whom it disapproves (even Tories – see tinyurl.com/SirAlanDuncan). We despair of the BBC and the Guardian and other press who support Zionism and undermine free speech on Israel.
The IHRA says it is anti-Semitic to say that 'Israel exaggerates the Holocaust'. Whilst they may not exaggerate the numbers, we believe Israel exploits and weaponises it. Here we note the words of the Israeli former minister of Education, Shulamit Aloni, who said in a US interview that the Holocaust was a trick the Israelis used. The interviewer said: "Often, when there is dissent expressed in the United States against policies of the Israeli government, people here are called anti-Semitic. What is your response to that as an Israeli Jew?". Aloni replied: "Well, it's a trick, we always use it. When from Europe somebody is criticizing Israel, then we bring up the Holocaust.." We note Netanyahu now exploits the Holocaust in the most outrageous fashion, with ridiculous claims that Hitler didn't want to exterminate Jews at all, but had to, because Amin al-Husseini told him he must!.
Time and again the Zionists dredge up the horrors of the Holocaust as a reason why they must make Arabs refugees, or at best, second class citizens in their own country. They use it to justify sectarian, racist views. As Rabbi Aahron Cohen said when he gave this speech in 2006: "I must add that the use by the Zionists of the Holocaust to further their aim of a sectarian State is the height of hypocrisy when one bears in mind that the Zionists turned each stage of Nazi oppression to their own advantage, to further the aim of forming a State…"
So we know despite the IHRA fraud, we are not anti-Semitic when we say that Israel exploits and seeks to uniquely sacralise the Nazi Holocaust for political ends. Whilst observing Britain did little to protect the Jews or help them escape persecution in WW2, we consider the Nazi Holocaust was not a uniquely barbaric event; 10 million black Africans were massacred by the Belgian colonial regime in Congo at the turn of the 20th Century. Imperialist crimes everywhere (including those of the British in America, Africa, Asia, Australia, India and Ireland) are of the same cold-blooded order as the Nazi holocaust, which was a crime of imperialist capitalism, not a unique slaughter outside of history.
Policy 6. We favour the dissolution of the settler colony that is Israel, leading to a single-state solution, whereby all citizens are equal – Israelis and Palestinians – Jews, Arabs and Christians– and all have equal voting rights – and where UN resolution 194 on the right to return is honoured. We recognise this may lead to an Arab Prime Minister, governing the land between the river and the sea! We believe that by so doing, we can help secure lasting peace in the Middle East. [See Gideon Levy explain why only a single state will work in this 12 min video – albeit he sees it achieved through Israel changing its politics, rather than through its dissolution and replacement by Palestine]. In our preferred option, of a Palestine for all, we do not advocate the expulsion of those who supported Zionism.
Policy 7. We support fighting against Israel by all means including sanctions, boycotts and military aid, to support the Palestinians and defeat Israel's monstrous and tyrannical racism, which should go as did South African apartheid. We note international law guarantees Palestinians the right to resist, including armed resistance- a course which Hamas follows; but few western governments acknowledge: United Nations resolution 37/43, dated 3 December 1982, "reaffirms the legitimacy of the struggle of peoples for independence, territorial integrity, national unity and liberation from colonial and foreign domination and foreign occupation by all available means, including armed struggle."
We also believe that we must rid political parties and trade unions of the IHRA definition to allow freedom of speech on Israel to resume, as we had it before 2015.
Member Rules
Members should adhere to the policies. We believe that people have the right to amend their views and if they admit to having made antisemitic statements in the past (according to the Merriam-Webster definition), and acknowledge they were mistaken and no longer hold those views, we will accept them. Membership will be free.
If a member makes what could be construed as antisemitic statements, – or denies the Holocaust took place, – we shall hold an EGM and give them a chance to explain their position to the wider membership. If a majority vote (either in person or by electronic means) in favour of expulsion, their membership of ODP will cease.
Each year, ODP will hold an AGM at which it will elect a Steering Group of Chair, Secretary, Campaigns Officer and Social Media Officer and other posts, as required. Throughout the year, others may be cop-opted onto the Steering Group, as required. The quorum for general meetings is 1/8th of the membership; notice for General Meetings (on Zoom) will be posted to members no later than a fortnight before the date of meetings.
At the Inaugural General Meeting held by Zoom on 2nd April 2022, Pete Gregson was elected as Chairperson (contact him at info@onepalestine.land) Social Media officer Jon was co-opted in May and Vice-chair John was appointed in November.
When ODP was CABA: in the Press
Bogus Charges, 3rd Feb 2022 – See third letter in at Letters – Weekly Worker.
New Campaigning Body on Bogus Antisemitism 7th Feb 2022 in Redress Online
New Campaigning Body on Bogus Antisemitism 7th Feb 2022 in Shoa- The Palestinian Holocaust
Banning UK citizens from protesting against Israel's government is anti-democratic. Here's why.. 21st May 2022 in Vox Political